Breakfast is still the most important meal of the day – especially when you're trying to lose weight! A healthy, filling breakfast will give you energy for everything you need to get done between waking and sleeping. It'll also keep you feeling satisfied and reduce those sugar cravings that can ruin your diet in the late morning and afternoon.
There are loads of ways you can nourish your body – and satisfy your hunger – without overdoing the calories or spending half the morning in the kitchen.
Here are the top 25 weight loss breakfast recipes for busy people!
1. Bircher Muesli
Homemade Bircher muesli is a powerful blend of oats, fruit, nuts and whatever else you fancy! You don't even need to cook anything. Just put everything together in a glass container and stash it in the fridge.
Bircher muesli is not only delicious but rich in healthy complex carbs, protein, and fiber. It contains everything you need to keep your blood sugar in balance and your tummy happy throughout the day.
2. Chia Seed Breakfast Pudding
Chia seeds are a fantastic source of plant-based omega-3s, which help to reduce inflammation and support cognitive function. Chia seeds are also packed with protein and fiber, which makes this delicious breakfast pudding a no-fail way to start the day.
You can also add natural sweeteners such as stevia or Monk fruit to reduce the glycemic index without compromising on taste.
3. Egg-in-a-Hole
Who doesn't love eggs for breakfast? Try a new twist on an old favourite by adding vegetables and cooking with coconut oil. Eggs are a rich source of protein and omega-3s, while whole grain bread provides a filling and nutritious base. The extra protein from the turkey will help keep your brain in order and your muscles in good shape!
4. Avocado Pancakes
The trendiest breakfast of the century! Avocado is not only an excellent source of healthy fats, but it contains a heap of fiber to knock back those hunger pangs. The lemon and parsley add flavour and alkalising health benefits. Whip these up and you've got a breakfast that'll keep cravings at bay all day!
5. Smoothie To-Go
Need a smoothie on the run? Simply make these delicious smoothies in bulk, pack them into bags, and freeze!
You can make these smoothies as unique and nutritious as you wish: add protein powder, berries, leafy greens, chia seeds, and banana, and you've got a powerhouse of vitamins and minerals. Or mix it up with peanut butter, yogurt, and seasonal fruits. So easy!
6. Two-Ingredient Pancakes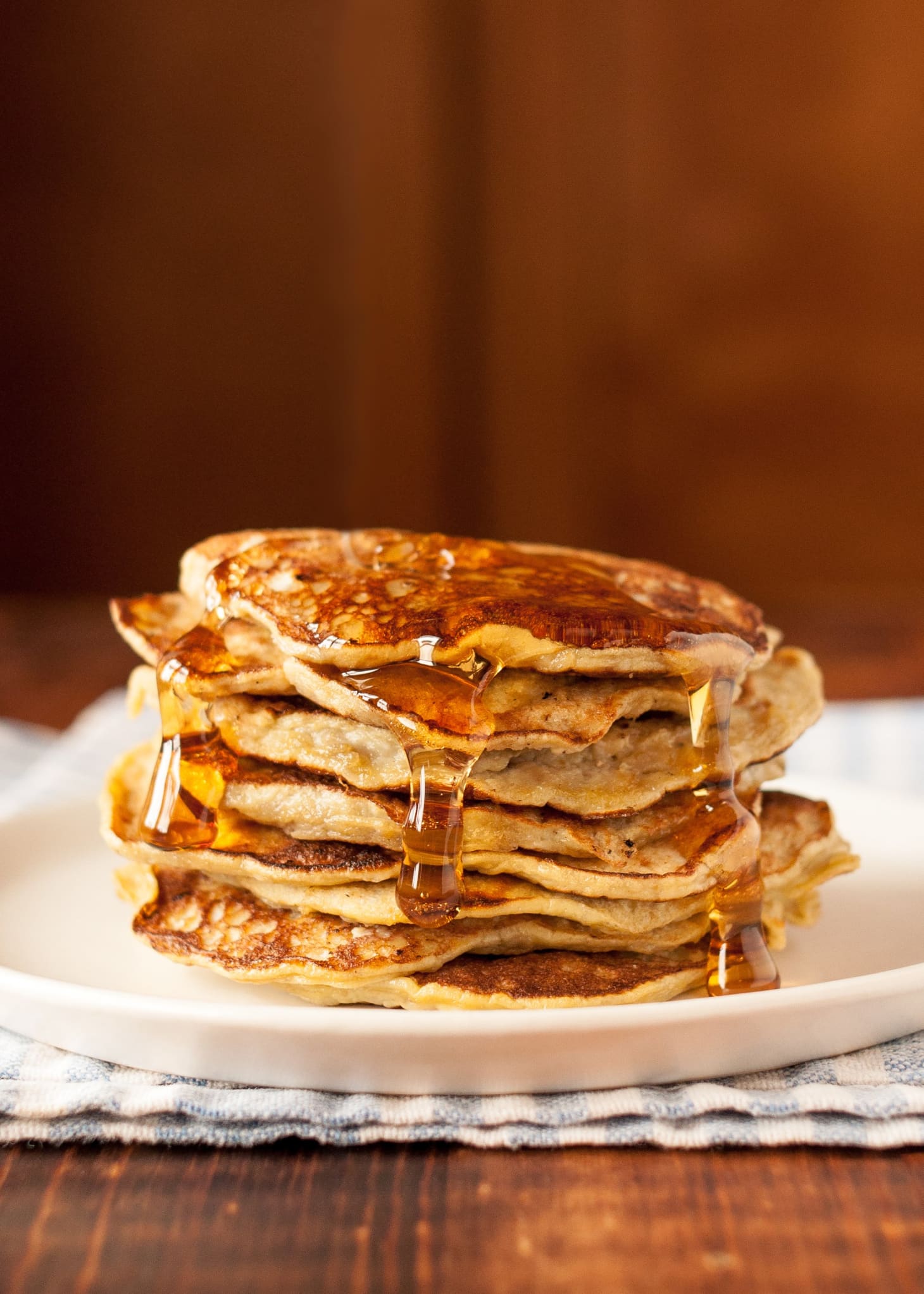 That's right: all you need for these super-easy pancakes are banana and egg! They're not only gluten-free, wheat-free, dairy-free, and yeast-free, but they're the perfect blend of protein and healthy energy. Bananas are a great source of both fiber and potassium, and they provide sweetness without unnecessary calories. And because you can make these pancakes in mere minutes, you've got no excuse for grabbing a takeaway!
7. Keto Pancakes
If you're not into bananas, these protein-rich pancakes are your new best friend. Any fitness fanatic will love this powered-up breakfast that combines your favorite protein powder with delicious almond milk. You certainly won't feel like they're made from a weight-loss breakfast recipe! You can even mix these up each day by adding fruit, nuts or (healthy) chocolate chips.
8. Cheesy Keto Omelet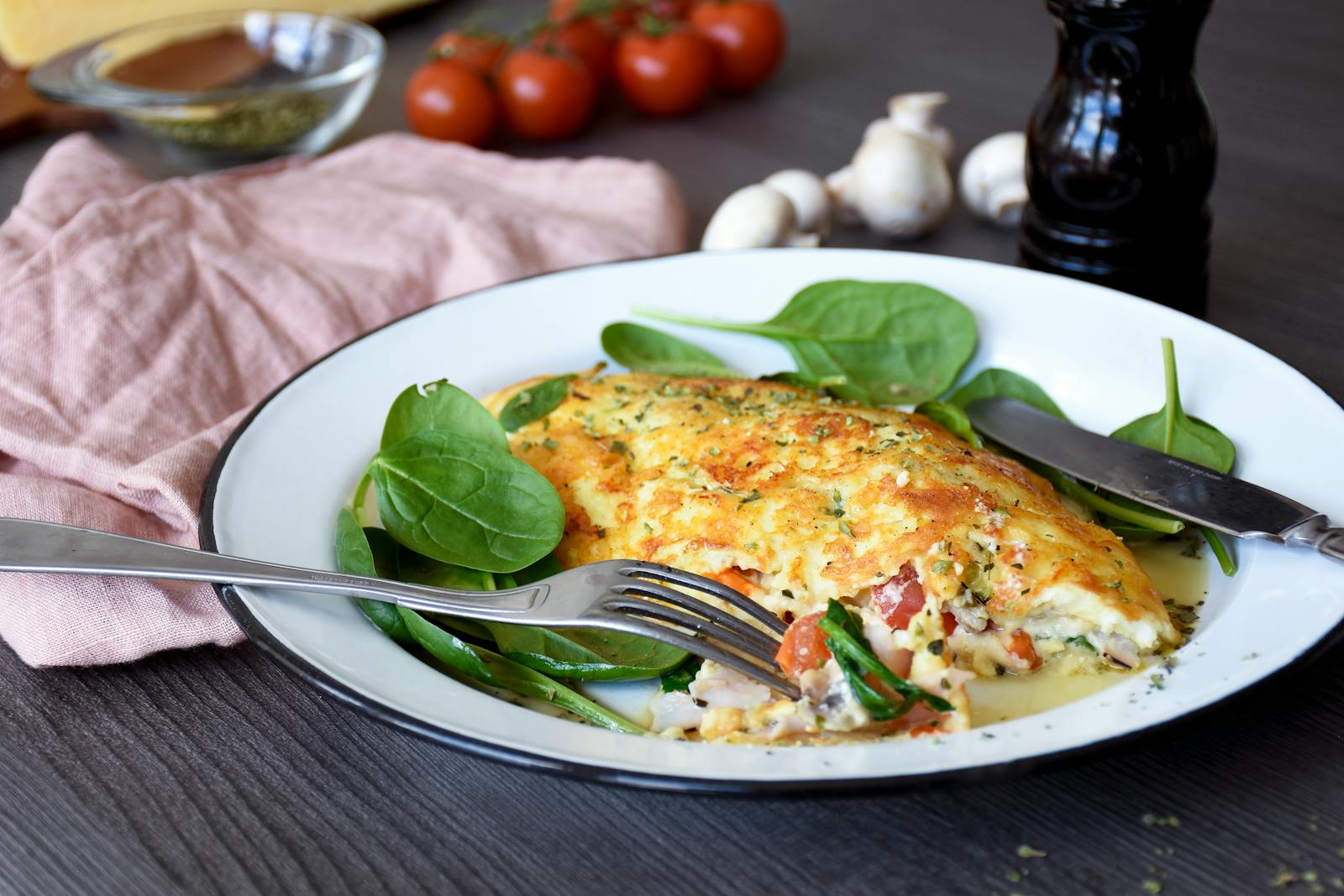 Is there anything you can't do with eggs? This yummy, keto-friendly omelette packs a powerful punch of healthy fats and protein. The cheese makes it even more delicious while upping the protein and keto-friendly fat.
This breakfast tastes indulgent, but it's really not! You can also add herbs, onions, and salsa for extra flavor.
9. Berry Smoothie
Antioxidant-rich berries make this breakfast sweet without the need for any sugar. They also help to ward off those harmful free radicals and protect your cells from damage. At the same time, the fiber in the chia seeds helps to lower your glucose levels and keeps your metabolism ticking. Chia seeds also provide a healthy dose of omega-3 fats and healthy moisture to your entire digestive system.
10. Turkey Sage Breakfast Patties
If you love a cooked breakfast, you can't ignore these turkey patties. The turkey is a perfect lean protein, and the fresh herbs and spices will boost the flavour tenfold. The onions and olive oil are powerful antifungal foods that can help to balance your gut flora and restore a healthy balance to your microbiome. It's great for lunches, too!
11. Protein Jello
You read that right! Jello can be a healthy breakfast – if you make it right. Gelatin is actually a fantastic nutrient and a good source of protein. It helps with the repair of tissues, especially in the gut. Greek yogurt is an excellent source of calcium and extra protein.
And the flavour options are endless! Even the kids will be into this one.
12. Egg Muffin Cups
Packed with eggs and veggies, these muffin cups are great on the run and full of everything your body needs. Vary the veg according to the seasons and you'll always have a new taste on hand. Better yet, make a batch and freeze them: you'll never go without breakfast again! High-protein, low-carb, and super-easy to make, they're the perfect snack, too.
13. Quiche in a Mug
Got five minutes? Then you've got time for a delicious, low-carb quiche! Leafy greens, egg protein, calcium-rich cheese… all you need to get your metabolism in gear and your body firing on all cylinders.
14. Baked Eggs Skillet
Rise and shine – this breakfast will keep you going right through til dinner! It's quick and easy to make and so good you'll never want it to end. But it's also high in healthy fats and nutrients, including magnesium, potassium, and calcium.
15. Coconut Almond Paleo Breakfast Muffins
Muffins again? Yes! These are incredibly healthy but also grain-free, sugar-free and dairy-free. The bananas provide both sweetness and healthy energy, while the almond flour and coconut deliver extra fiber. And again, the eggs top it all off with protein!
16. Spinach Donuts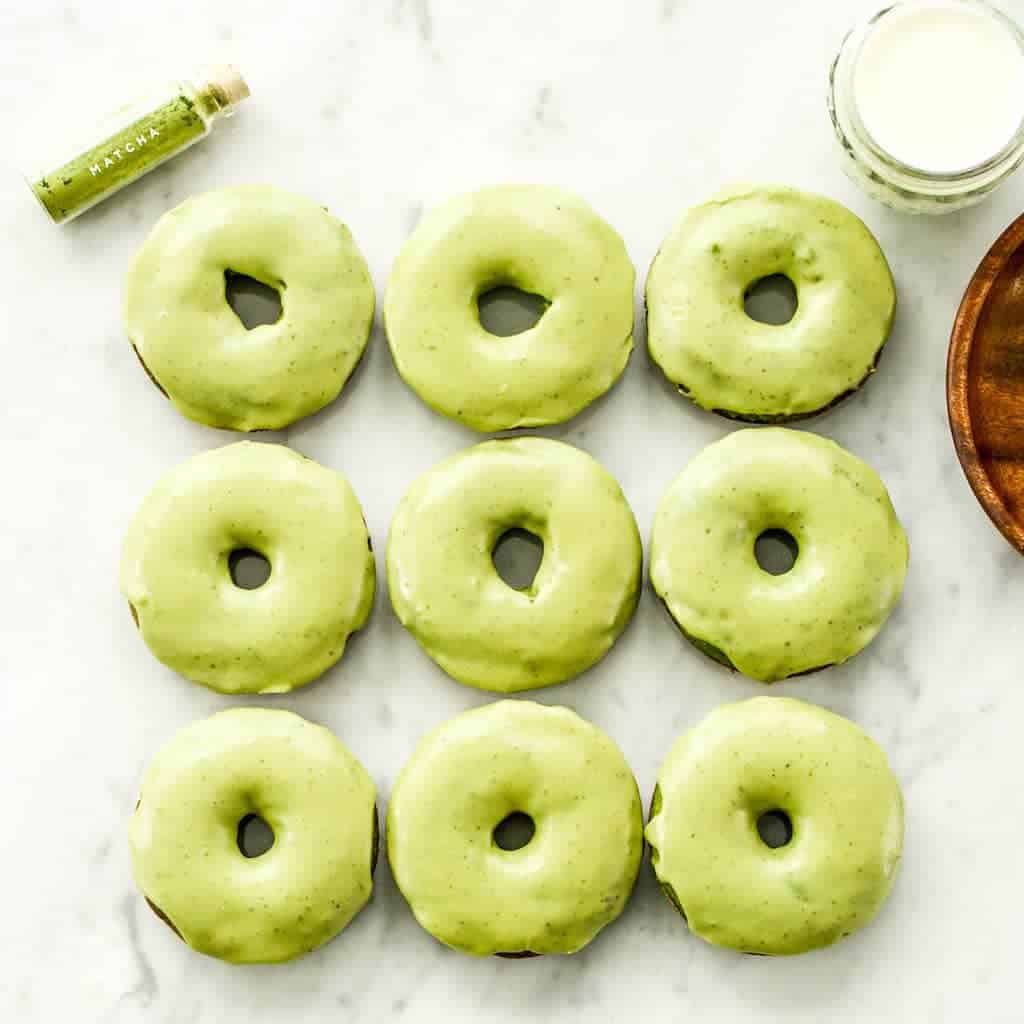 Just when you thought life couldn't get any better, we tell you to have donuts for breakfast! These are donuts with a difference: they're bursting with spinach. Even better, the matcha powder adds an incredible dose of antioxidants and flavor. They're also totally gluten-free and dairy-free.
17. Salmon Bagel
The benefits of oily fish go on and on: anti-inflammatory omega-3 fats, delicious protein, B vitamins, selenium, and even the antioxidant astaxanthin. Throw that together with tomatoes, spinach, and egg and you'll be brimming with healthy energy!
18. The Healthy Latte
You've probably heard about the benefits of coconut oil for healing a damaged gut. Well, this delicious morning beverage contains that and more: healthy fats for energy and cognition, cinnamon for blood sugar stability, plus conjugated linoleic acid, beta-carotene, vitamin A, vitamin K, vitamin D, vitamin E, and antioxidants!
19. Spinach Scramble with Raspberries
Greens, protein, antioxidants AND color! What could be better? There's plenty of fiber in the whole-grain toast, and the combination of spinach and raspberries will satisfy even the most adventurous tastes.
20. Cardamom and Peach Quinoa Porridge
It's so good, it's almost a dessert! Quinoa is a fantastic gluten-free source of protein and energy, while cardamom adds sweetness without calories. And who can resist a juicy peach? You'll find plenty of fiber to keep your blood sugar levels in check and those sugar cravings at bay.
21. Breakfast Tapas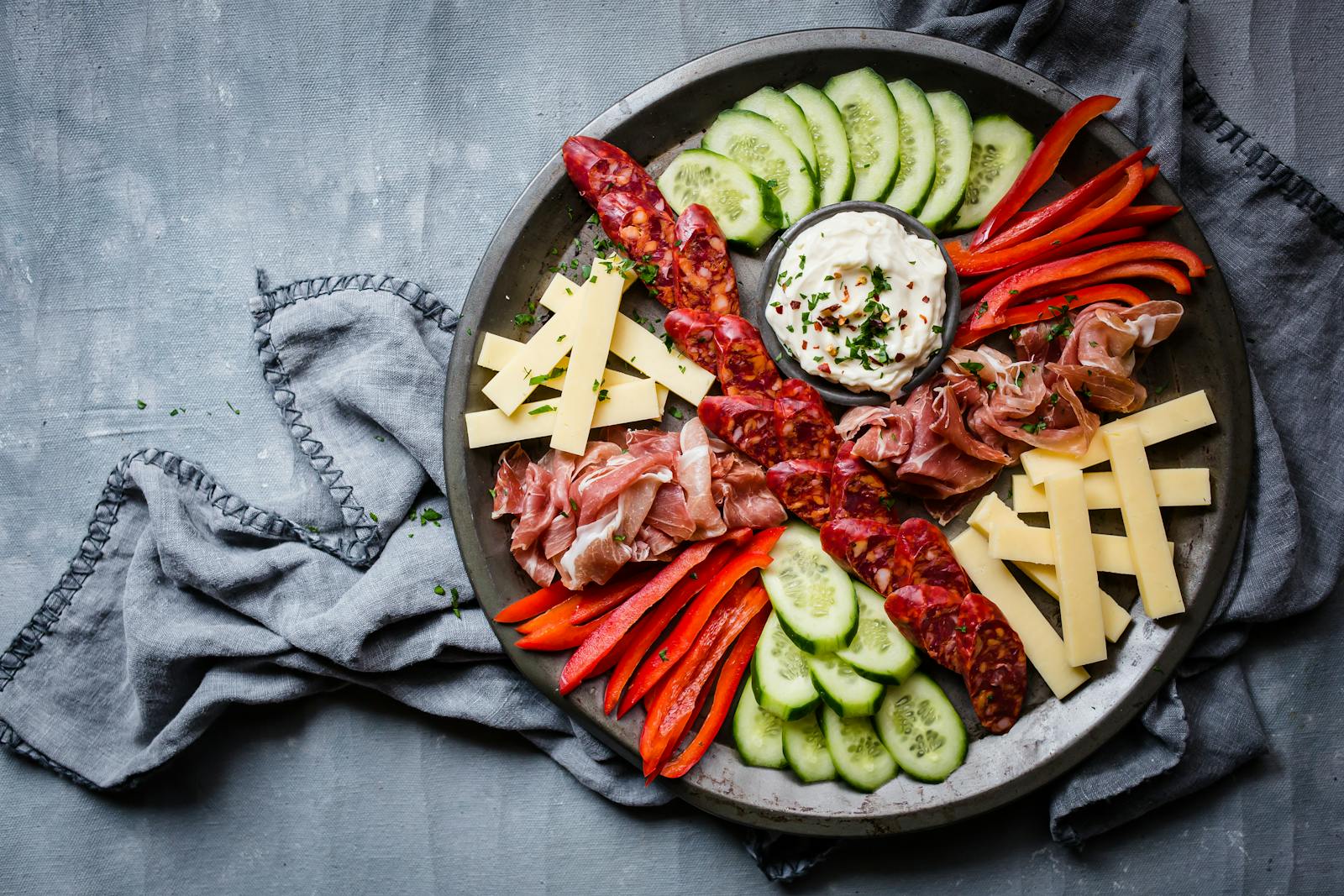 Need to feed a group? This is the ultimate recovery breakfast! Veggies, protein, healthy fats, a ton of flavor – and minimal preparation. Just throw it all together on a plate and you've got nearly every food group covered. Best of all, you can keep each portion in its own container and carry it over for lunch!
22. Coconut Granola
Nothing satisfies the taste buds quite like granola! This particular granola ticks all the boxes: sweetness, flavour, and satisfaction. Buckwheat adds a heap of fiber and a chewy texture without the calories, keeping your digestion in tip-top shape. The coconut is a fantastic source of good fats, antifungal benefits and sweet delight!
23. Scrambled Tofu Breakfast Burrito
This breakfast has the power of protein with the Mexican flavors of cilantro, salsa, spices, beans, and lime. You've got fiber in the beans, protein in the tofu, and a fresh hit of salsa with every bite. And zero sugar!
24. Peanut Butter Energy Bites
Need something quick and delicious? These moreish little bites are packed with protein, fiber, and good fats to keep you satisfied and full of energy. And they contain only five ingredients: peanut butter, steel-cut oats, flaxseed, honey, and chocolate chips. Just combine everything a bowl and freeze for a fast, nutritious breakfast on the run. No oven required!
25. Rainbow Cottage Cheese Breakfast Bowl
The prettiest breakfast you'll have all week – and made in minutes! The berries and pomegranate provide super doses of vitamins and antioxidants, while the cottage cheese is the perfect source of low-fat protein and calcium.
Don't wait to get your days started with some of these delicious recipes.
More Healthy Recipes
Intermittent fasting weight loss is a type of diet that's rapidly growing in popularity and becoming the way to lose weight. Scientists and nutrition experts like it, too. New books and articles on the topic are being published daily. Intermittent fasting is also popular with followers of the Paleo diet since our ancestors appear to have eaten this way for thousands of years.
I've been following this type of diet myself for 2 years. Doing so helped me lose and keep off 70 pounds without ever having to count calories, limit carbohydrates, or eat 6 to 7 meals a day.
This article teaches you all about intermittent fasting weight loss and details why it is one of the best weight loss diet hacks around. Once you finish, you will be able to implement into your diet and experience the benefits it offers almost immediately.
What Is Intermittent Fasting?
As you may have figured from its name, intermittent fasting weight loss is a diet plan where you set fasting periods during the day. This is usually between 16-20 consecutive hours, but it can be as little as 12 hours or as much as 24 hours (or even 36 hours).
While fasting you can eat and drink low calorie or calorie-free foods. Think coffee, tea, water, and vegetables.
The more time you spend fasting every day, the better your results. You can do these fasts as often as you like. Again, the more often you do so, the better.
Getting Started With Intermittent Fasting
Following this diet plan is super simple. All you have to do is choose a period of time during the day that you will fast. This should be between 16-20 hours.
The longer you fast each day, the better. Don't worry about calorie restriction or measuring carbohydrates. Just focus on going about your day until it's time to eat.
It's best to choose a set period of time to conduct your fast. I like to fast from 8 PM to 4 PM the following afternoon. I'll then have my first meal of the day and a snack or two a few hours later. Once 8 o'clock rolls around, it's back to fasting.
My experience with intermittent fasting is that it's best to start with a 16 hour fast (i.e. 8PM one evening to 12PM the next day) for the first 1-2 weeks. Once you are comfortable with this schedule, you can increase the amount of time you spend fasting. Do this by adding 30 minutes to each fast until you get to where you are fasting for 20 hours at a time.
You don't have to fast every day in the beginning either. You may be more comfortable breaking in slowly with 2 or 3 days per week, or trying alternate day fasting. Add additional days of intermittent fasting as you become more comfortable with this style of eating.
Tips To Make Intermittent Fasting Easier
1. Drink Plenty of Water
Squeeze a little lemon or lime juice into your water to help get rid of any cravings you experience. You can also drink coffee, tea, or other calorie-free beverages. After a few weeks, you will find that intermittent fasting keeps you from craving sugar entirely.
2. Take in Caffeine in the Morning and Early Afternoon
The caffeine in coffee and tea may actually make intermittent fasting weight loss a little easier since it's good for curbing your appetite. Be careful not to overindulge as this may lead to you feeling a little too wired. I also recommend these natural energy boosting tips to keep you going during the day.
3. Avoid Artificially Flavored Drinks
One type of calorie-free drink that should be avoided are diet sodas and other beverages that use artificial sweeteners like Splenda and Sweet & Low. Studies show that the can actually stimulate your appetite like a drink that contains sugar and cause you to overeat.
4. Don't Gorge at Your First Meal
The first meal after your fast should be the amount of food you typically eat. Binging will only make you feel awful and diminish the benefits you get from the fast.
To avoid this, try creating meal plans, at least for the first few weeks. This will help you get into the rhythm of eating regularly portioned meals during your eating window.
5. Minimize Processed Carbohydrates and Sugars
While intermittent fasting does make it possible to eat a little looser than normal, you should still eat as little bread, pasta, rice, etc. as possible.
Focus instead on eating protein from beef, fish, or pork, carbohydrates from vegetables, fruit, and sweet potatoes, and healthy fats from foods like almonds, avocados, fish, and olive oil.
You can find some carb sources that will aid your weight loss journey here.
How Intermittent Fasting Helps You Lose Weight
Eating this way has many benefits with regard to weight loss. The first is that when you're fasting, your body will be forced to use its stored body fat for energy. Burning calories this way, instead of from the food you're eating throughout the day, will help you experience significant weight loss, but specifically lose weight from any excess body fat you're carrying.
This means that you won't just be thinner, but you will also look better and be much healthier than if you lose weight the old-fashioned way.
Intermittent fasting can help optimize the release of the key fat-burning hormones in your body. This is especially true for the two most important hormones: human growth hormone (HGH) and insulin.
Human growth hormone plays a key role in turning on your body's fat-burning furnace so that it gets the calories you need to work and play from stored body fat. Studies show that fasting can significantly increase the production of HGH.
The influence intermittent fasting weight loss has on insulin is just as impressive and possibly more important. Keeping your insulin levels low and steady is key to losing excess fat and keeping it off.
Diets that are rich in processed carbohydrates (bread, pasta, rice) and simple sugars (candy, cookies, and soda) have the opposite effect. They cause your insulin levels to rapidly spike and then crash every time you eat one of these foods. The net result of this phenomenon is that your body will store more of what you eat as excess body fat instead of burning it off as energy.
Chronically elevating your insulin levels like this can also lead to the development of type II diabetes, obesity, and other chronic health problems. Intermittent fasting easily solves this problem.
One study found that men who participated in intermittent fasting had "dramatically lower insulin levels and significantly improved insulin sensitivity".
This happens because you're not giving your body food, so it will not produce insulin, allowing insulin levels to balance out until you eat again. This helps your body stay in a calorie and fa-burning state. You'll also find that it gives you more energy throughout the day.
Another great weight loss benefit of intermittent fasting is that hunger pangs and cravings that may normally plague you throughout the day will be reduced, if not altogether eliminated. This is probably due to its ability to balance your insulin and blood sugar levels and, in turn, help correct other hormonal imbalances.
Intermittent Fasting Weight Loss FAQs
Now that you know what intermittent fasting is and how to get started, it's time to answer your other questions.
Below are answers to the questions frequently asked about intermittent fasting. These answers should help you and make getting started a lot easier.
How Much Weight Will I Lose?
The amount of weight you lose with fasting is determined by how often and long your fasts are, what you eat afterward, and other factors. Fasting for 16-20 hours a day can help you safely lose 2-3 pounds of fat every week.
While losing this much weight every week is great, it's how it makes it happen that's really cool. Losing weight with intermittent fasting means that you will never have to count calories or plan and prepare several meals a day.
Can I Work out While Fasting?
Yes, you can. In fact, doing the right type of workout while fasting will help you lose weight faster and even build muscle.
The best workouts to do while fasting for weight loss are 3-4 intense strength training workouts weekly. This means anything from standard strength training to kettlebell or body weight workouts.
Focus on doing 3-4 total body exercises per workout with as little rest as possible between sets. Doing this will help you burn more calories during and after your workout. You'll also build muscle, which will help you look and feel better as the weight comes off.
Won't I Lose Muscle When I Fast?
First of all, you aren't fasting long enough for your body to start breaking down muscle for energy. You have, perhaps, hundreds of thousands of calories from your stored body fat to use before that will begin to happen. Studies actually show that even after fasting for 3 days, no muscle is lost.
Is Fasting Safe?
As long as you are healthy, not pregnant, and aren't taking medications, fasting is safe. Like all diets, you should discuss it with your doctor before beginning an intermittent fasting style of dieting.
I also feel that it may not be smart to follow this type of diet when you're especially stressed. Since this diet can be a little stress-inducing at first, doing so when your ability to be relatively stress-free and rested probably isn't a good idea.
Are There Any Supplements I Can Take to Make Fasting Easier?
As with any other weight loss plan, it's a good idea to take a few nutritional supplements to ensure that your daily requirements are met. This includes a once or twice daily multi-vitamin, fish oil, and vitamin D.
I've also found taking 10 grams of branch chain amino acids before and after my workouts really helps, too. They're great for giving you more energy during your workout and decreasing post-workout muscle soreness.
For supplements to specifically help with digestion, check out this article.
Conclusion
Now you know what intermittent fasting is and how it can help you lose weight quickly, safely, and pretty much effortlessly.
If you want to give it a try, find a fasting schedule that fits with you lifestyle and give it a go.
More About Intermittent Fasting