Spy apps can be used to track someone without their knowledge. Usually, people use spy apps to track their phone, watch over their kids, or track an employee's phone. We don't condone the use of these apps in any way malicious. You should never use spy apps unless you have the consent of the other individual.
Word of Caution:
We are telling you about these apps so that you know what is out there. Look up applicable laws to make sure you're not breaking any. Use these apps responsibly if you're installing any of them.
What You Should Know Before Using a Spy App
Are iPhone Spy Apps Undetectable?
Yes. iPhone spy software is designed to be undetectable. These wouldn't be very effective hidden spy apps for iPhones if people were able to track them!
Can I Spy on an iPhone Without Touching It?
Yes. All iPhones are backed up to Apple's iCloud service. Since this is cloud storage, phones are able to access this without the need to jailbreak their iPhone. Furthermore, this cloud storage allows you to spy on an iPhone without installing software on it.
How Do I Know if My iPhone Is Compatible With the Spy App?
The best iPhone spy apps should be compatible. Considering they're available on Apple's App Store, the app itself has had to go through rigorous testing and meet certain standards. Of course, ensuring it works on iPhones is one of those tests.
Do I Need to Jailbreak the Target iPhone to Spy on It?
No. As mentioned before, because you can access iCloud storage, any iPhone spy app should be able to gain access with no issues.
10 Best Spy Apps for iPhone in 2020
We looked through some of the most reliable tech reviews in Tech Times, Engadget, ClaveGuard, and SpyEngage and compiled our list of the best spy apps for iPhones:
1. mSpy
If you're looking for the best spy app for iPhones, this is one of them. The company takes pride in providing an iPhone spy app with no jailbreak, iPhone tracking, and apps for Android phones, too. In terms of the app itself, you're able to: 
Look at deleted text messages

View incoming and outgoing texts and call history

Track the phone using their GPS system 
And that's only the tip of the iceberg. The app provides a whole host of features, allowing you to keep track of the person you're spying on. The interface is also user-friendly. 
However, the same can't be said about contacting customer service as many have had bad experiences. That, and the company has a tendency to not refund purchases despite having a comprehensive refund policy.
2. iKeyMonitor
For those looking for free iPhone tracking apps, a better option is iKeyMonitor. This is a powerful, easy-to-use parental control app capable of a number of things. Some of the features include:
Monitoring texts and calls on phone and social media

Checking websites

Location tracking
The upsides to these apps is the fact they have free plans available for you, so there is little financial risk. Out of them all, this is the best free spy app for iPhones.
That said, this app would be better for older iPhones. Customers have experienced issues with the app functioning since the phone they're tracking has two-factor authentication enabled.
3. SPYERA
Another alternative to spy on iPhones is through the use of Spyera. Like all the other apps thus far, it covers the same monitoring features. They also extend these features to computers and tablets.
Spyera has a variety of perks that other companies don't offer, like offering cloud-based monitoring. Installing the app is also quick and easy and takes less than four minutes.
The only wrinkle with this app is the acceptable payment options are limited. They only accept payment via debit or credit cards.
4. FlexiSPY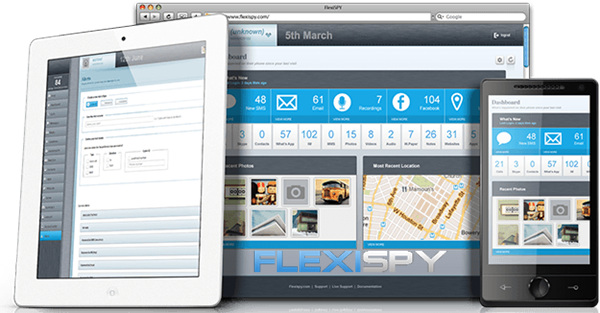 Another candidate for the best spyware for iPhones is the FlexiSPY app. This company is known for its powerful app and features, and it shows.
Out of all the apps on this list, this allows you to monitor a phone on everything. The same can apply to computers as well. You're able to try out demos as well, so there is no risk in trying before buying.
The downside to this app is that, while it's powerful, it comes with a huge risk since you do have to jailbreak the phone that this app is operating on. 
Jailbreaking phones has major trade-offs in that you're more at risk of your phone getting hacked. Furthermore, if you run into any issues with your phone outside of the app, Apple staff won't be helping you. 
Furthermore, to keep your phone jailbroken, you'll have to stop updates on your phone, updates that would otherwise keep your phone safer. 
5. XNSPY
For another app to monitor iPhones, you have Xnspy. The company touts its easy-to-use features and iPhone monitoring software, and it makes sense given customer reviews noting how easy it is to download the app and begin monitoring.
However, many customers also noted that their customer service is lacking. Like some of the other companies mentioned above, customers haven't had positive experiences with customer support.
6. Mobistealth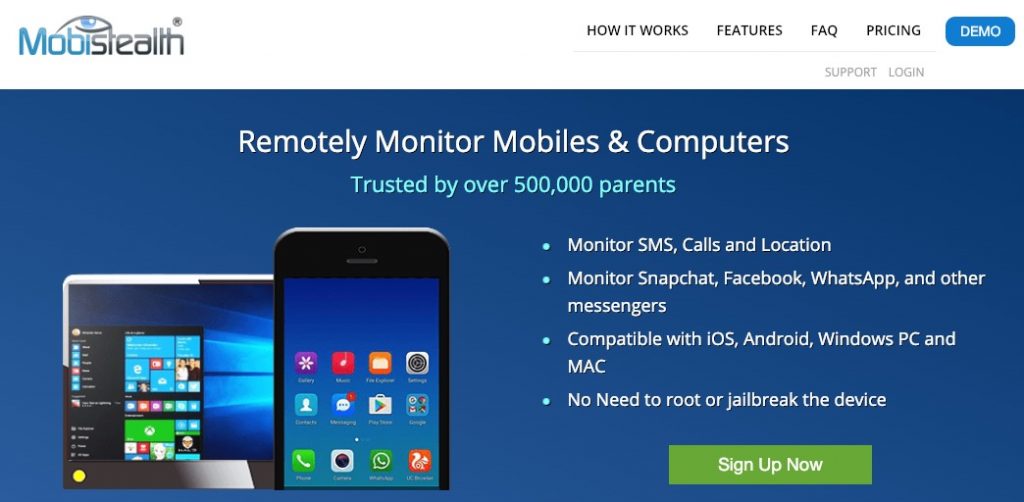 Mobistealth is another one of the best spy apps for iPhones to try out. The company has built the app to make it simple, affordable, and invisible.
The app is simple in design and in features. It's able to monitor multiple things on an iPhone, including social media messages, and even data usage.
The only drawback is that the features are simple in design and don't include as many as other apps. Also, the lack of trial period means you'll need to pay to get access. While the price is affordable, of course, it's easier for people to try something out before making a decision.
7. Web Watcher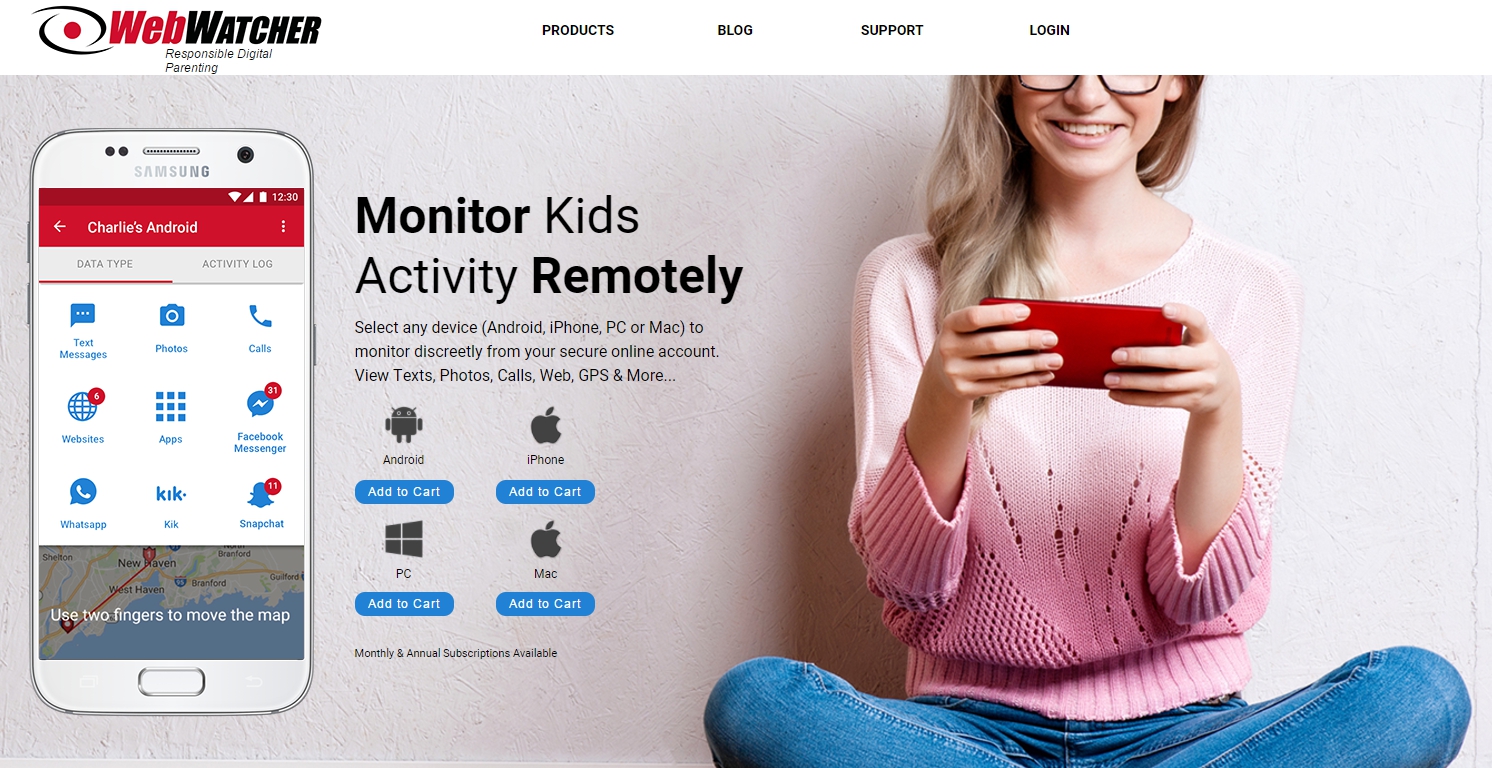 For one of the best iPhone tracker apps around, consider Web Watcher. The company takes pride in providing an app that doesn't require you to jailbreak and is compatible with recent iOS software, as well as Android phones.
The big selling point is the Alert Log. This feature highlights problematic messages. It removes the guesswork in situations and can save you from unnecessary conversations with your children. Furthermore, they also have a trial period, which is always appreciated.
With all that said, their customer support is questionable at best, with individuals experiencing many difficulties getting refunds or help.
8. Cocospy
Another of the best spy apps for iPhones is Cocospy. It's specifically designed to monitor and track children's phones, and it can be installed on other iOS devices, too.
Overall, the various features that this app provides are fantastic. Many people remark on the ease of use of the app as well. All across the five continents, this app is generally accepted.
That being said, there are some features that this app doesn't cover. For one, you'll need to jailbreak your phone if you are to monitor apps like Messenger and Snapchat. Furthermore, there is a lack of a free trial.
9. HIGHSTERmobile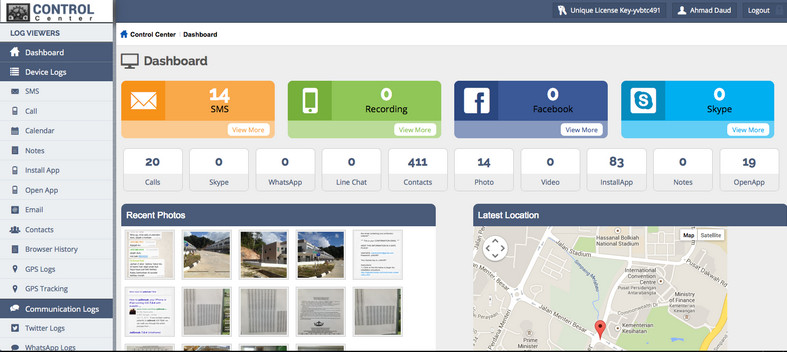 For more iPhone monitoring, you have HIGHSTERmobile. Like many on this list, this app provides a wide variety of monitoring. It covers call logs, grants remote access and GPS location, and monitors web history, social media, and more.
One thing that's nice about this app is that the company follows a one-time payment policy over a subscription fee. So, while you'll be paying more for the app, you'll make your money's worth in a few months' time.
There are drawbacks, though. For one, phone support isn't free. You'll be charged $30 for a 30-minute session. Furthermore, you may have to wait to get the service, which is inconvenient if you need an immediate response. Installation is also more complicated than advertised.
10. Auto Forward
The final app to cover that'll help you spy on phones with ease is Auto Forward. You'll be able to access the target phone and monitor the same things as the previous spy apps have.
One of the distinct advantages of this app is that, like Highster, their plans are one-time payments. It also provides access to media and audio files, which is an extra feature compared to what other apps typically provide.
The one glaring issue with this app is that it does require you to jailbreak your phone. Furthermore, this is something that the company omits in their advertising.
The Bottom Line
Spyware is something that many people are looking for. Companies have emerged and have made an attempt to rise to the challenge, but there are still some issues. Things like requiring phones to be jailbroken or rooted to poor customer service are glaring issues. However, the above best spy apps for iPhone have got over these problems.
More on Staying Safe Online
The success of our day is largely dependent on the quality of our planning. Not to miss out anything in their to-dos, some people prefer to make a list of upcoming tasks in a notebook, while others have long started using digital technology solutions.
Calendar applications are some of the main tools that are worth using to organize our life and plan your time carefully.
Many people have switched to specific tools; however, there are still some who do not use calendars on a daily basis. They may find some applications uncomfortable to use, non-functional, or expensive.
In this article, we are going to check out the best calendars apps to help you stay organized.
Before You Download
As you are no doubt aware, there are all kinds of calendar apps available. Instead of you sifting through the hundreds of them, we've handpicked 10 of the best calendar apps you can get. On top of glowing reviews from each one, we've considered the following aspects when creating this list:
User Interface – How you navigate the app should be smooth and simple. The buttons on the app should be clear, obvious and easy to move through.

Synchronization – Whether it's with other calendar apps or with other apps, syncing apps should be easy and enhance your overall experience with the app.

Additional features – Since there are so many options for calendars, many of these apps offer additional features. These features make the apps stand out from the other apps and provide unique experiences to you.
1. Any.do Calendar
This calendar has direct integration with Any.Do To-Do List, which gives you a unique tandem of two applications.
Apart from its extended functionality, Cal Calendar is easy to use. The creation of events is very simple and fast.
What is more, depending on the name of the event, the application automatically adds contacts and geolocation data to the entry description. You can even import your lists and entries from Any.do.
Any.do Calendar is a great option for any type of user. It is very convenient and doesn't overcomplicate the mode of display.
Another good thing is that this tool is available for free, so you can use it without spending a dime for the software.
Download Any.do Calendar here!
2. Google Calendar
Google Calendar is the official calendar for Android devices that has been tested out by many users around the globe. If you are right now trying to get away from it, consider changing your mind.
Since this application is installed on most Android devices by default, many users think that there is nothing special in this program. They are wrong.
Google has been updating its calendar for quite a few years, and now it comes in Material Design with advanced event features, direct integration into other Google services (for example, supports reminders and Google Now), and comes with Exchange support.
The program is super easy and will not cost a dime for you. It is a good thing, right?
Download Google Calendar here.
3. IRL Event Social Network
One of the most unique apps on this list is the IRL Event Social Network app. As you can guess from the name, the core focus of this app is social networking. Unlike other social media platforms, you can consider this platform to function similar to Meetup.com. It's a site where you can connect with other people within your area that share a similar interest.
IRL is that while also providing a convenient calendar for you to schedule events and plan out your day. Though due to it being a secondary focus, you're lacking a lot of the syncing aspects that other apps have on this list. Regardless, because of this huge social feature, it's worth considering for those who want to make more connections.
Download IRL Event Social Network here.
4. Business Calendar
Business Calendar is geared towards people who use their calendar for work purposes and business task planning. It offers different modes with wide configuration capabilities.
The application gives a default view mode by months, and events can be marked in different colors. Display modes/ sorting can be adjusted to your needs (by month, day, year, or events).
You can also set a multi-day viewing mode to see how things look for the next few days. Scrolling up and down moves you by month, and if you check a few days, they will be shown in a more detailed form.
The day display mode offers hourly scheduling, and the schedule mode provides a detailed schedule for a single event.
Business Calendar is a great tool for planning/ scheduling cases, tasks, and events. There is a support for recurring events, which can be set up in just a few clicks.
Having purchased software, you can use it to import and export other calendars, delete, copy, or move several events at the same time.
Android Business Calendar application may seem somewhat chaotic, but it works fine and is easy to work with if you play with it for a while.
A full version of the application is available for $4.99, but you can also find a free version for the app test drive.
Download Business Calendar here.
5. Calendar
Calendar is a relatively new app. It works as a web app and for both iOS and Android devices. It is an intelligent app that learns your contacts, schedule and tasks. It also helps you schedule and arrange meetings according to your available time slots.
A good thing about Calendar is that it allows you to sync up with other calendars you use such as Apple Calendar and Google Calendar. And so you can manage all the calendars you have in one place.
Calendar also gives you analytics of your meetings, giving you a clear picture on how you can improve your time management.
Download Calendar: Meeting & Scheduling here.
6. aCalendar
aCalendar opens our collection of top 10 calendar applications available on the market today. With its appealing design, easy navigation, and great functionality, it is one of the most popular calendar apps in our list.
Some of extra functions include color schemes for each case type (48 colors to choose from), different types of demonstrations, different widgets, moon phases, and much more.
Taking into account it functionality, aCalendar is a reliable calendar application that has an easy-to-navigate interface with three display options. Scrolling from side to side allows you to switch between the display modes of the month, week and day.
When scrolling down and up, you are moving through the calendar at intervals in accordance with the selected display mode.
Apart from its time planning feature, aCalendar synchronizes photos from contact lists or social networks to remind you about birthdays, anniversaries, or any other special dates.
The program also supports data transfer through NFC and full-screen widgets, which eases your work with any data.
The program is available for free, but you can also get even more features if you buy the extended version of software for $4.99.
7. DigiCal Calendar
DigiCal Calendar is very similar to Cal Calendar in the fact that the application focuses on design more than on its functionality. However, this doesn't mean that the application doesn't serve the purpose.
With this calendar application, you can synchronize all your calendars and view them in different ways.
Along with the basic functions, this program comes with support for Google Calendar, Outlook, and includes some unique and interesting features. You can match keywords to the image or set up a dark theme.
The app can even show you the weather forecast for three days. There are many other features that deserve the attention of people who really like to use calendar applications.
Download DigiCal Calendar here.
8. SolCalendar
SolCalendar can be called a universal application. It claims to be an all-in-one digital solution having a basic calendar functionality combined with some other advanced features, such as weather forecast for a specific day.
The application supports Google Calendar, as well as tasks, widgets, lunar calendar and even Foursquare.
Those searching for a calendar application to cover just everything in its functionality, SolCalendar is a program to consider. There are a lot of interesting things in this application; the program does an excellent job working in "all-in-one" mode.
Test SolCalendar – the application is available for free. You can test it out without purchasing the service.
9. Today Calendar
Today Calendar is one of the most hip and edgy calendars in our list. The solution was one of the first ones that really embraced Material Design and remains one of the few that adhere to the neat style.
The calendar application offers bold colors, simple controls, and great functionality. This is not as heavy an application as many others; it will not eat all the memory of your device.
If you are not searching for something complicated and over-functional, Today Calendar is what you need. You can always test the application before paying for it – the program is available for free.
10. Timepage
Timepage is an intuitive calendar app that will manage your time in a way that other calendar apps can't. It offers the same sort of functions that you'd expect from other calendar apps: opportunities to record events, notifications and reminders, weather, and driving duration to a particular event. However, the app goes beyond those functionalities in two ways.
The first way is that while the app sends you notifications, it also has reminders for you for what is coming up next. That bit of extra time can allow you to prepare and make adjustments to your day if need be.
The second function – which is more important – is the heat map when you go to see the full view of your calendar. This heat map indicates what days you are most busy and other days where you are freer. This heat map provides a quick glance to determine broadly what days are good to add more events and other tasks.
Our Verdict
Searching for the right application to manage your various calendars and plan your busy day can sometimes turn into a streak of obstacles.
Most of us need flexible applications that can be easily used to manage our tough schedule. The application should have all necessary time planning functions and be intuitive.
Stylish design and limitless compatibility also matter. It is not always easy to find such a program.
The above digital calendar solutions fall under the category "worth" of being used. They are modern, multifunctional, easy, and easy. Pick the one you like!
More Productivity Apps for Better Time Management