As part of yesterday's BlizzCon 2019 opening ceremony, Blizzard officially revealed Descent of Dragons , the next Hearthstone expansion,...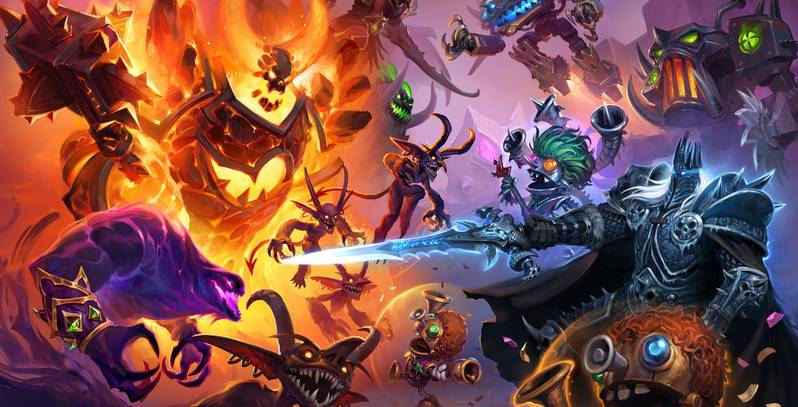 As part of yesterday's BlizzCon 2019 opening ceremony, Blizzard officially revealed Descent of Dragons, the next Hearthstone expansion, which will be available on December 10. This expansion will conclude the game's Year of the Dragon, and it will give fans access to the powerful dragon Galakrond, Side Quests, and many more new cards. That said, cards are not the only thing that Hearthstone fans can expect from Descent of Dragons, as Blizzard has confirmed that a new game mode will be added alongside the expansion.




Called Battlegrounds, this forthcoming Hearthstone game mode will be familiar to players that are already vested in autobattlers like Teamfight Tactics and Dota Underlords. To be enjoyed by eight players, Hearthstone's Battlegrounds will let players "take on the role of a familiar Hero straight out of Hearthstone history, craft a powerful board of recruited Minions, and face-off in an action-packed series of duels until a single winner is crowned."





With respect to when players can experience Battlegrounds for themselves, an early access period is just around the corner. Beginning on November 5, early access to Hearthstone's Battlegrounds will be made available to those that pre-order Descent of Dragons, attended BlizzCon 2019, or are in possession of a BlizzCon Virtual Ticket, and an open beta period will begin just a week later, on November 12.






Indeed, there will be plenty of opportunities for players to try out Hearthstone Battlegrounds prior to its official release alongside the Descent of Dragons expansion, but it remains to be seen if this new game mode will be able to capture players' imaginations in the way that other Auto Chess games have. The autobattler phenomenon has undoubtedly pulled a number of high-profile Hearthstone players away from the game over the course of this year, and Battlegrounds may be just what Blizzard needs to bring some of these fans back into the fold.




That said, the recent controversies surrounding Blizzard's banning of Hearthstone pro Blitzchung may make it difficult to win back certain players, even if the company is offering new products that these fans might be interested in. While the developer did open BlizzCon 2019 by apologizing for the situation, only time will tell if players consider this to be a satisfactory response.




Hearthstone is available now on PC and mobile devices.