When the  Final Fantasy 7 Remake  cover art came out, it evoked a sense of nostalgia that left fans craving to know more about the game. It ...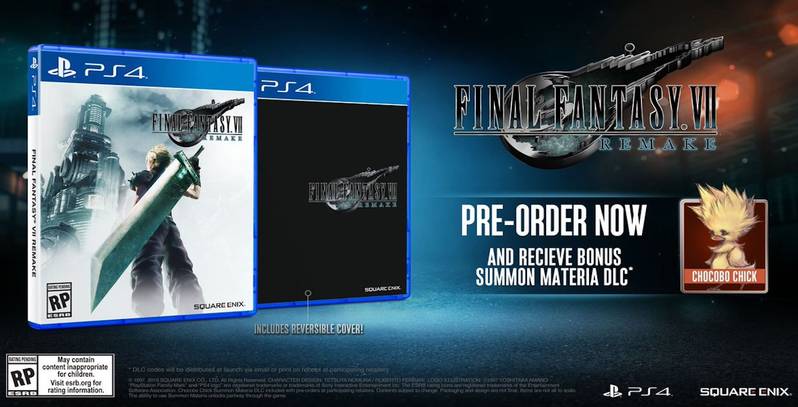 When the Final Fantasy 7 Remake cover art came out, it evoked a sense of nostalgia that left fans craving to know more about the game. It captured the charm of the original artwork and still managed to show off the new realistic art style that represents the game's adaptation into the modern-day. Square Enix could have gotten away with just the original art alone, but the company instead decided to give the game two, offering fans another visual to choose from by inversing the box art.




The other box art sports a simple design that's common with nearly all Final Fantasy titles. It's the usual name of the game against a simple backdrop. So in the instance of FinalFantasy 7 Remake, the second box art is the stylized "Final Fantasy 7 Remake" logo from the original cover placed against a black background. This is the design that Japan will be using when the game releases in the region. It's a simpler choice for those who prefer art that's less busy.





The information comes from another new tweet from the official Final Fantasy 7 Remake Twitter account. The tweet reads that every physically copy of Final Fantasy 7 Remake will come with a reversible cover -- as one probably could have guessed. Naturally, the tweet specifies "physical copies." Still, there's a possibility that the game will come with a feature that will allow players to change their PlayStation background to either of the game's cover arts. If it does, then digital players will be able to enjoy both designs as well.






The tweet also points out the pre-order bonuses for Remake. Those who pre-order the game will receive a Chocobo Chick Summon Materia as DLC. What exactly Chocobo Chick will do in this game when summoned isn't described, but another Chocobo-related summon was announced this week through a plethora of new screenshots. Lastly, the tweet points out where players can pre-order the game, linking fans to the game's Square Enix site.




This last week has been a great one for Final Fantasy 7 Remake news. The game also showed off a new Aerith ability, announced that the second part of Remake was already in development, and confirmed that the game would feature new never-before-seen bosses. There are still four agonizing months left till the game comes out, but at least with updates like this, fans won't have to suffer dry spells, too.




Final Fantasy 7 Remake releases March 3, 2020, on PS4.