The final assault against the Vex has finally arrived, letting players enter various timelines to take down the Undying Mind once and for al...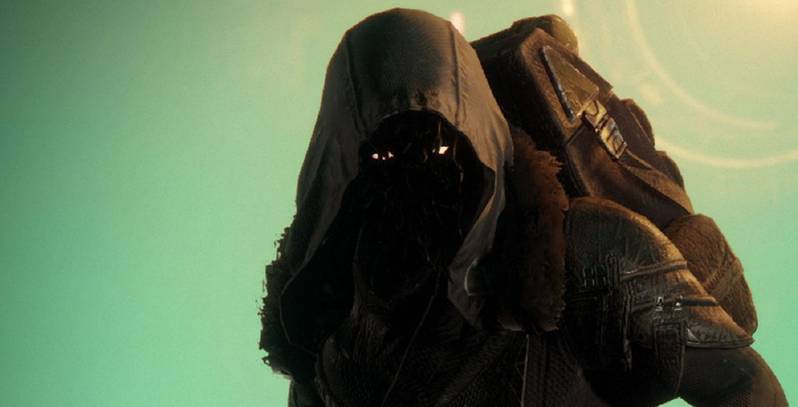 The final assault against the Vex has finally arrived, letting players enter various timelines to take down the Undying Mind once and for all. However, for all the hype and lead up, Destiny 2 players have found the new Vex Offensive mode to be underwhelming. The mode is mostly similar to how it was earlier in this season, with the only difference being the Undying Mind as the final boss. Shockingly, even the gameplay during this fight features the same mechanics, and the environment and loot pool hasn't changed at all either.




Unfortunately for players, the Final Assault is the final piece to the Season of the Undying. While Bungie has yet to disclose any information on Season 9, the latest blog post from the developer revealed new insight into Solar subclass changes coming in a few weeks. Bungie is actively reworking or replacing under-performing skills from three of the lesser used trees including the Hunter's Way of the Sharpshooter, the Warlock's Attunement of Sky, and the Titan's Code of the Devastator. Bungie is hoping to make these options more viable for all modes inside of Destiny 2.






In the meantime, the exotic merchant Xur has returned to Destiny 2 and is once again offering new exotic merchandise for sale. Follow this guide for his location as well as a review of what he's currently selling for the weekend of November 22, 2019.



Where is Xur?



Through this weekend, Xur can be found within the European Dead Zone on his usual cliff.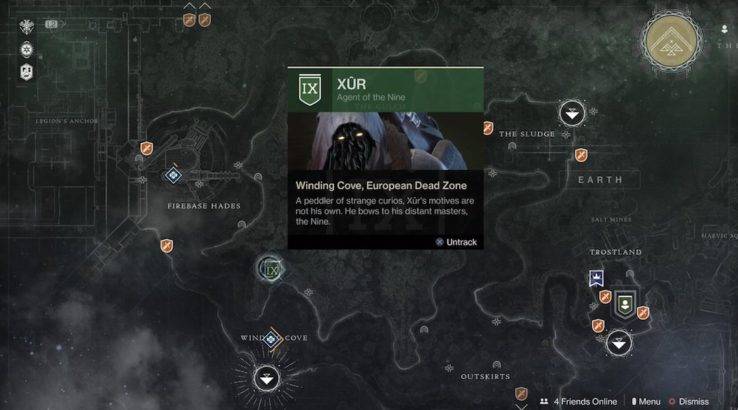 Fast travel to the Winding Cove zone and immediately head towards the back where the Fallen typically patrol. Climb the cliffs back here to find Xur standing on a ledge not too far from a crashed ship.



Class Armor



Keep in mind that the Armor 2.0 update has caused Xur's items each week to mirror the rolls players get from pulling these items from their own Collections. As it stands, players should likely hold on to their shards if they already own the following items. Players can use the Fated Engram to pull something a little different if nothing in his inventory is appealing this week.




Here are Xur's three gear pieces this weekend:




Verity's Brow - Warlock helm




It's been a little while since Xur has featured this Warmind exotic, which was probably a good thing considering this armor is gifted to Warlock players for finishing the DLC campaign. Its exotic perk is called The Fourth Magic, which causes energy weapon kills to boost grenade energy for the player and any nearby enemies. This effect can stack up to three times.




While the item itself is definitely useful, especially when paired with strong energy weapons like Riskrunner or Recluse, the main issue is that it is an item all Warlock players should have at this point. If they don't, the easiest way to get it is to quickly finish the Warmind campaign. Because of how easy it is to get, this isn't worth spending reimgs on this week.




Solar Enhanced. Stat Values:



Mobility +12
Resilience +6
Recovery +8
Discipline +10
Intellect +6
Strength +6
The Sixth Coyote - Hunter chest armor




Originally introduced in Destiny 2: Forsaken, this Hunter chest armor comes with the Double Dodge intrinsic perk which basically gives players a second dodge. As such, this exotic armor is subclass neutral, meaning it can synergize with any Hunter subclass making it a viable option regardless of play style.




While the perk may not be particularly flashy or unique, getting a second dodge is pretty useful in all game modes of Destiny 2. With Marksman's Dodge equipped, players would be able to automatically reload their weapons twice or refresh their melee ability twice with Gambler's Dodge.




Void Enhanced. Stat Values:



Mobility +11
Resilience +7
Recovery +7
Discipline +10
Intellect +6
Strength +6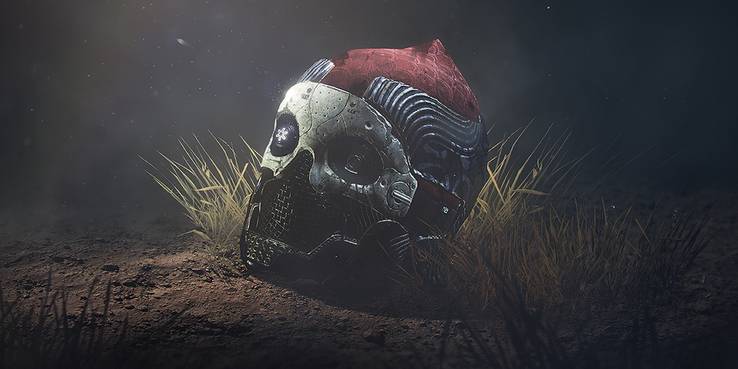 One-Eyed Mask - Titan helm




Currently, this Titan exotic is one of the strongest armor pieces in the game and quite literally the bane of Hunters and Warlocks everywhere. The reason is due to the exotic perk Vengeance which activates after the wearer takes damage from an enemy. When the perk is active, the player that did the damaging is highlighted and if the wearer can take out that marked target, they get increased damage, health regeneration, and an overshield.




While this is an easy recommend for Titans who don't yet have it and it can be a true monster in PvP activities. One major thing to note is that this item is scheduled for a pretty big nerf. While it's expected that the One-Eyed Mask will still be strong, it's not going to dominate like it once did as the overshield will be removed completely. Tracking and health regeneration will remain so the helm will still be a solid choice after December 10.




void Enhanced. Stat Values:



Mobility +6
Resilience +7
Recovery +13
Discipline +6
Intellect +6
Strength +10
Exotic Weapon



After two weeks of Riskrunner appearing as the featured gun for a certain amount of time, Xur bucked the trend by offering the Wardcliff Coil rocket launcher. Mad Scientist allows this weapon to fire a volley of rockets instead of just one at a time like the others. Volatile Launch goes even further to make this weapon even more explosive by greatly increasing blast radius and slightly decreasing handling speed and projectile speed.




For newer players, this is a great PvE weapon, so it's an easy recommend this week. Rocket Launchers remain a solid power choice, even if many players tend to stick to machine guns and grenade launchers. Either way, this weapon in particular remains incredibly strong in PvE activities, especially against bosses. When used in conjunction with arc singe enabled activities, the weapon can melt bosses very quickly as players who farm the Strange Terrain Nightfall can attest to.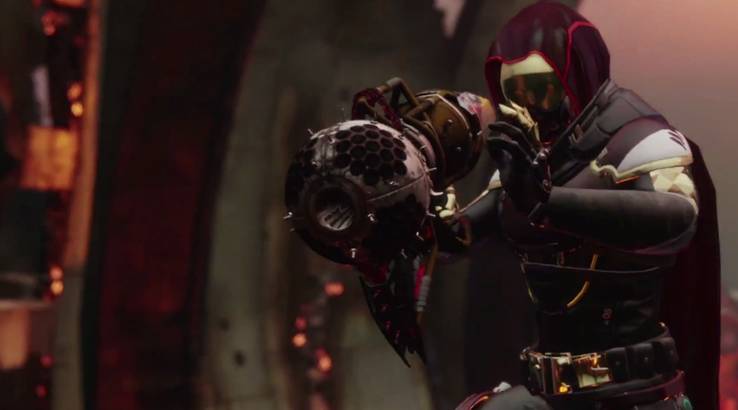 Here's the complete rundown of Xur's entire stock in Destiny 2 for November 22:



Verity's Brow (Warlock helmet) – 23 Legendary Shards
The Sixth Coyote (Hunter chest armor) – 23 Legendary Shards
One-Eyed Mask (Titan helmet) – 23 Legendary Shards
Wardcliff Coil (Rocket Launcher) - 29 Legendary Shards
Fated Engram - 97 Legendary Shards
Five of Swords Challenge Card
Destiny 2 Shadowkeep is out now for PC, PS4, and Xbox One, with a Stadia version also in development.




MORE: Destiny 2: How to Complete the Link to the Chain Raid Challenge