StudioMDHR's difficult run and gun game  Cuphead  is trending on Twitter more than two years after the game was first released. Thousand...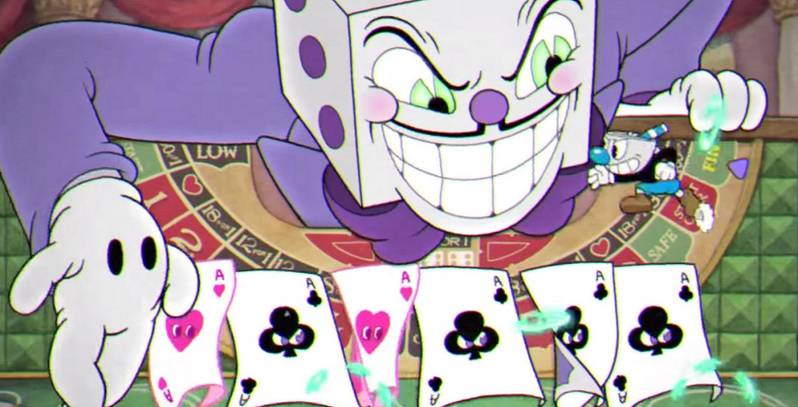 StudioMDHR's difficult run and gun game Cuphead is trending on Twitter more than two years after the game was first released. Thousands of tweets talking about Cuphead have been posted today and it's all for one very strange reason.




On Twitter, thousands of users are talking about Cuphead and it's all because of another game called Enchanted Portals. That game, a 2D platformer, got a new trailer today and many have criticized developer Xixo Games Studio for making a game that looks a lot like StudioMDHR's popular release. Enchanted Portals also seems to use a 1930s cartoon style of art but the comparisons go beyond that, with fans having created side by side comparisons of the two games




In one comparison image, it's shown how the piano key level in Enchanted Portals looks like the King Dice boss fight in Cuphead. There are five other Cuphead images that have also been compared.




Enchanted Portals: Can I copy your homework?

Cuphead: Sure just make it look different so it doesn't look like you just copied it.

Enchanted Portals: Sure thing.

BOYYYY if this isn't borderline plagiarism.... pic.twitter.com/xjcvd434Kv

— Street 🎃 [QuantumGC] (@streetgrind_) October 9, 2019
Look I wanna give Enchanted Portals the benefit of the doubt but... I can't, either can most of the community. It literally looks like they're trying to cash in on both look and gameplay of the pre-existing Cuphead, and that's not great.

Fine line between inspiration and ripoff. pic.twitter.com/jaSoNrD2Ov

— TRAFON (@RiseFallNick) October 9, 2019






Twitter users are fighting over just how much of a "ripoff" Enchanted Portals is. Some have defended the game saying that Cuphead isn't the first to use the art style from 1930s cartoons. One of Cuphead's boss battles is also a Batman Easter egg, as StudioMDHR created a Cuphead version of a level from an old Batman game, but it's normal for games to borrow ideas from each other.




However, others have accused Enchanted Portals of just trying to cash in on Cuphead's success. In a screenshot of a post on Facebook from six weeks ago, the Enchanted Portals team said that "we are avid fans of Cuphead and were inspired by it to create something similar." The developer also says that the team is "trying to give it a different spin" and make it "our own thing," some Cuphead fans see the Facebook post as a smoking gun.




For Xixo Games Studio, this could potentially derail the developer's plans to launch an Enchanted Portals Kickstarter campaign. Backers may not feel like supporting the crowdfunding campaign if they feel like they aren't getting anything new that they can't get from Cuphead. The developer will also have to work very hard to show fans that their game isn't just a Cuphead ripoff.




StudioMDHR may feel positive about things, though. The developer hasn't posted a statement on the allegations that Cuphead has been ripped off, but it shows that many fans are enjoying the game and its art style years after release. More Cuphead DLC is coming in 2020 and it seems like many fans will be ready to enjoy it.